Anna Mlinariková

jazz violinist
Anna performs as a solo violinist to the beat of a diverse array of musical genres. Her work in jazz has been increasingly mixing into the realms of electronic music and pop as well. Anna performs solo or with her band, and also as a guest artist with various groups and projects. An important part of her career also consists of studio work.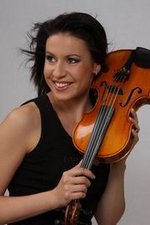 Anna (* April 15th, 1980) successfully graduated with a specialty in jazz violin from Boston Berklee College of Music in the U.S. where she studied under the tutelage of Rob Thomas and Matt Glaser. Anna earned a talent scholarship to Berklee through a competitive examination, and after the first semester she was placed on the dean's list of the best students across the whole Berklee College of Music. Thereafter, Anna got an offer from Rob Thomas for further study at Berklee and also an invitation from Matt Glaser to perform on the Cirque du Soleil tour. Nevertheless, Anna returned to Prague to complete her study at the Jaroslav Jezek Conservatory where she graduated with outstanding honors in 2005.
Since 2006 Anna has been a staple performer at the Semafor Theater in Prague.
Between 2008 and 2009, Anna took part in the project "Ohrozeny druh Live" ("Endangered species Live"), where she performed live for Michal Horacek´s music album).
Between 2007 and 2010, Anna was a member pop performer Aneta Langerova's Band.
Anna periodically organizes her own solo concerts, usually in the theater Semafor, performs with one of the most successful Czech DJ´s - DJ Lucca, and guest performs for his electro-pop band Cartonnage, where most recently, the project implemented its own live El.Pop.Violin, dummer, and DJ act.
In November 2008 Anna released her debut album "The Very First" which she recorded with pianist Peter Malásek, bassist John Greifoner and drummer Bady Zboril.
Anna has performed on the albums of Aneta Langerova (Jsem), Michal Horacek (Ohrozeny druh Live), Tomas Klus (Hlavni uzaver splinu), Marek Ztraceny (Ztracis), Cartonnage (I Am Not Your Computer) or on the music and albums for movies Anglicke jahody, Bobule, Valdez - Whales Paradise etc.
Anna Mlinariková